Compatibility of the figurines
Dear customer,

the bworld series by BRUDER consists of figures, buildings and numerous accessories for different theme worlds. This series was developed as a logical consequence of the expansion of the product range and also due to numerous customer requests for "original BRUDER figures" and was introduced in 2011.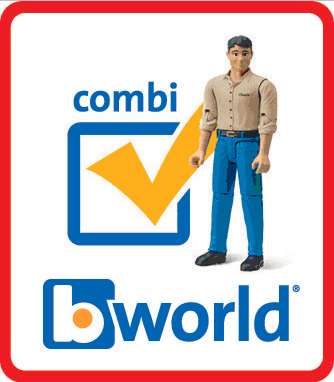 During the development of the figures all influencing factors and basic conditions were analysed and considered in order to arrive at an ideal development result. The aim was always to integrate the previous product range as well as possible into the bworld series in order to ensure the greatest possible compatibility.
However, due to the historical sequence of the product range, which has grown strongly over decades, and the development of the play figures only after that, the figures unfortunately do not fit into all existing vehicles or their cabs.
In order to give you the opportunity to inform yourself about the compatibility of a product before you buy it, we have marked the matching articles with this pictogram.