1926
Company established by Paul Bruder as a one-man band. Paul Bruder had been unemployed at the time. He produced brass reeds using a small, manual press as part of a time-consuming craftsmanship. Bruder supplied these brass reeds to toy trumpet manufacturers.
1939
Interruption of company activities as a result of the outbreak of the Second World War.
1948
Small company re-established
1950
After having completed training as a toolmaker Heinz Bruder joined his parents' company and continued the tradition in the second generation.
1954
Heinz Bruder qualified as a master toolmaker. He already saw his opportunities in seeking new ideas.
1958
Purchase of a small, used manual injection moulding machine; conversion of the company to plastics production - consequently change in company structure; workshop space of 60 square metres was no longer sufficient. Cardboard sleeves were replaced by automatically produced plastic sleeves. Introduction of a new production technology by Heinz Bruder led to the first property rights for reeds and small toys.
1960
Completion of a production building with in-house mould production on Würzburger Strasse in Fürth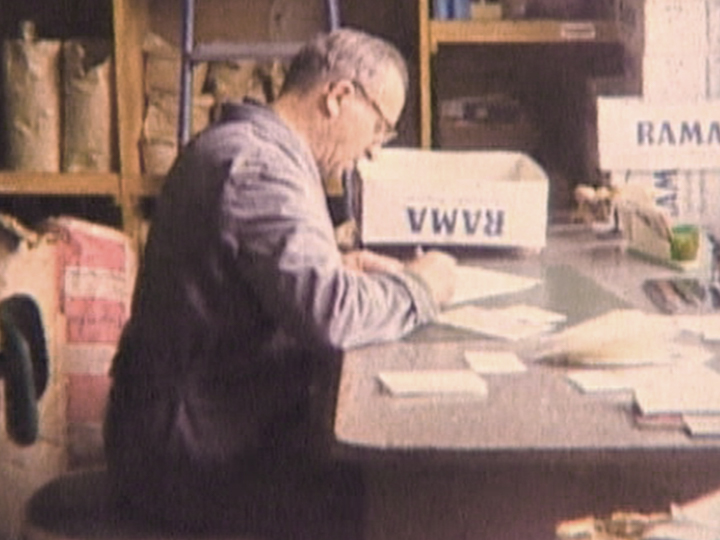 1965
Handover of parents' company to Heinz Bruder. In the 1960s small items, such as the perfectly working and affordable toy gun, consisting of only three parts and a rubber ring, made a crucial contribution to further fostering the company's development. Companies within the confectionery industry are amongst the most important buyers of these small items.
1966
Company enhanced by a further production facility that exceeded the size of the production facilities established in 1960.
1975
In February of this year the company exhibited at Nuremberg toy fair for the very first time.
As a result of the continued growth the company established a warehouse and shipping facility on Bernbacher Strasse, approximately 2 kilometres from the head office in Würzburger Strasse in Fürth-Burgfarrnbach.
1978
Change of company name from Paul Bruder Spielwarenfabrik to:
BRUDER Spielwaren Inh. Heinz Bruder.
1979
Under the "bruder" registered trademark the foundations for permanent development were laid thanks to continuous, interesting, new developments within the vehicles, promotional items and small toys segments that made it necessary to expand the company site at Bernbacher Strasse.

1981
After only 14 months of construction the new production and office building on Bernbacher Strasse was inaugurated and the company's site was completely relocated to Bernbacher Strasse. The company employed 70 staff members, continued growth despite an increasingly challenging economic environment.
Machinery included 35 injection moulding machines; the export rate totalled around 35% and products were sold in over 30 countries. BRUDER-Mini, the miniature vehicle series that, despite its small size, met the high demands towards functionality, for instance as a result of many moving parts, contributed to continued growth in the 1980s.

1987
Integration of son Paul Heinz Bruder (Dipl.-Ing. (FH), specialising in mechanical engineering) into the company. He took charge of product development and production.
1988
Inauguration of the new assembly and warehousing facility. Assembly and warehousing capacities were doubled to enable further growth. BRUDER premises now covered over 26,000 square metres of built-up, usable space. 80 staff members; 45 injection moulding machines were in use. Introduction of a new company logo.
1992
Change of company type from sole proprietorship to GmbH + Co. KG. Dipl. Ing. Paul Heinz Bruder and Heinz Bruder were now managing directors. 105 staff members and investments of around 3.5 million German marks per year.

1997
As a result of new products developed over the past years, such as the ROADMAX and TOP Professional series with new tractor generations featuring improved product quality, e.g. model-like tread tyres, construction was launched on the four-storey production facility with a usable footprint of approximately 15,000 square metres. The total production and warehousing space at BRUDER Spielwaren now totalled 41,000 square metres. The workforce amounted to 120 staff members.
1998
Upon completion of the new development (June 1998) BRUDER set a benchmark for the production facilities in Fürth and guaranteed future employment. The company's innovative force is impressively underlined by a number of developments that are patented or protected in terms of their use or design.
From this point onwards Dipl. Ing.(FH) Paul Heinz Bruder, who had played a major role in shaping the past years' positive developments, took over as the main managing director responsible for all crucial decisions. On the basis of his experience in modern company management and future-proof item development he guaranteed further growth at the current site in Fürth-Burgfarrnbach and thus continued with the family's tradition.
1999
Establishment of a sales office under the name of Bruder Toys America. Inc. in Gardena, California, USA, headed up by Beate Caso, daughter of Heinz and Elfriede Bruder.

2001
Export rate now exceeded the 50% benchmark. Investments as part of purchasing an adjacent real estate plot to lay down the foundations for further expansion. June saw the celebrations on occasion of the 70th birthday of the company's senior managing director, Heinz Bruder.

2002
Excavation work started for the new warehouse development on the purchased, adjacent plot
2003
"Bavarian Day of Apprenticeship" took place in June to counteract the generally poor professional training situation on the job market. At the event BRUDER was awarded the title of model company as the number of apprentices was boosted to 17. On 12 September 2003 a newly built logistics centre was inaugurated at Bernbacher Strasse 150. The building with 6,000 square metres of warehousing space and a ceiling height of 10 metres was inaugurated by Bavarian minister president Dr. Günther Beckstein. The investment volume for this development totalled approximately €5 million. Investments also included four new injection moulding machines and a CNC milling centre. Redesigned company logo.
2004
Increase of the export rate to more than 60%. The summer of the same year saw the launch of the new BRUDER mini series development due to be launched on the market in 2005. Starting with miniature tractors at a scale of 1:128 featuring plenty of functional accessories, the special characteristic of this series is the enclosed screwdriver and key ring chain that can be used to convert the toy tractor to a key ring.
2006
Bruder Toys America Inc. US branch office purchased its own office as well as shipping facilities and relocated from Gardena, California, to Hawthorne, California.
2007
Sparkassenverband Bayern (Bavarian banking association) awarded senior managing director Heinz Bruder the Bavarian founders' award in the lifetime award category for outstanding entrepreneurial achievements. The course was set for the company's future with the conversions taking place mainly in the office building.
2010
Construction on a new warehouse started in summer 2010 to enhance the logistics centre. Following completion, the facility with a ceiling height of approximately 16.5 metres would provide around 10,000 square metres of warehousing space. The cutting-edge, high-bay warehouse met future capacity demands.
2011
Introduction of bworld, a new product line. The bworld brand is short for "bruder world" and includes a toy system. It consists of modular buildings as well as animals and figures with numerous accessories made of high-grade, technical-grade plastic. Special characteristics firstly include the fully functional, realistic figures and versatility as bworld figures are compatible with Professional series toy vehicles at a scale of 1:16 so that there are no limits to playful fun. The recommended age range is children between 3 and 10.
Senior director Heinz Bruder, who still acts as an advisor within the company, celebrated his 80th birthday.
2012
Completion of construction on the warehouse development with 15,000 pallet slots which had been launched in 2010. The extension of the injection moulding department was also completed and a new, energy-efficient cooling system was also commissioned.
2015
Plant 2 is inaugurated in Plzeň (Czech Republic) to meet the growing demand for BRUDER items and guarantee sufficient production capacities.